Governance
The project is coordinated by the Chambers of Agriculture France (CDA France) with the support of the Management Board composed of the various Work Package leaders (UHOH, TEAGASC, AGRIDEA, ZLTO and EUFRAS) and the project's financial advisor (CIRCA).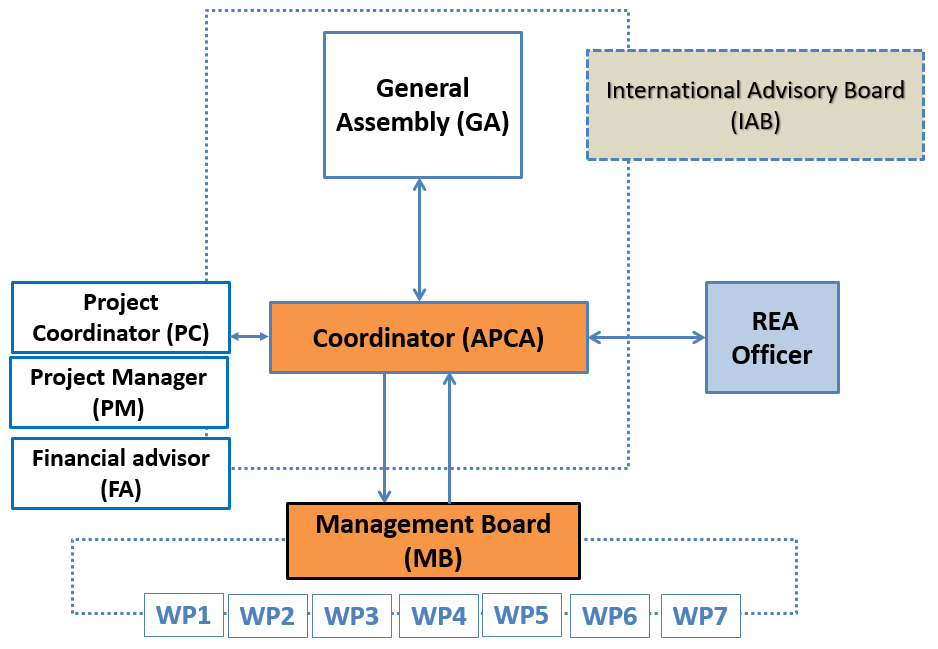 International Advisory board
The i2connect Management Board selected, in February 2021, the members of the International Advisory Board (IAB) as experts in supporting innovation in agriculture. Their role is to support the consortium with different advice and perspectives, to "see the big picture" and to ensure that the views of different stakeholders are effectively taken into account. IAB members may attend General Assembly meetings upon invitation but will not have any voting rights.
| | |
| --- | --- |
| Meetings |  3 (from 2021) |
| When |  During the GA meetings |
| Decisions |  Coordinator shall write the minutes of the IAB meetings and take care of the deployment of IAB's suggestions |
| Name | Country |
| --- | --- |
| Jan van Esch  | Netherlands |
| Dr Monica Gorman | Ireland |
| Mladen Jakopović | Croatia |
| Robert Lehmann | Switzerland |
| Hans Mikl | Austria |
| Dr Aurélie Toillier | France |
Chaired by the PC, the MB is composed of the following persons (work package leaders):
| Role | Name | Organisation |
| --- | --- | --- |
| Project Coordinator & Chair | Sylvain Sturel | CDA France |
| PC Co-lead | Mikaël Naitlho | CDA France |
| WP1 Leader (1) |  Andrea Knierim | UHOH |
| WP1 Leader (2) | Maria Gerster-Bentaya | UHOH |
| WP2 Leader (1) | Tom Kelly | TEAGASC |
| WP2 Leader (2) | Jane Kavanagh | TEAGASC |
| WP3 Leader (1) | Niels Rump | AGRIDEA |
| WP3 Leader (2) | Gwenaelle Fontaine | AGRIDEA |
| WP4 Leader (1) | Peter Paree | ZLTO |
| WP4 Leader (2) | Eelke Wielinga | ZLTO |
| WP5 Leader (1) | Līga Cimermane | EUFRAS |
| WP5 Leader (2) | Rui Almeida | CONSULAI |
| WP6 Leader | Sylvain Sturel | CDA France |
| WP6 Support (financial issues) | Jim Codd | CIRCA |
| WP7 Leader | Sylvain Sturel | CDA France |