Governance
The project is coordinated by the French Chambers of Agriculture (APCA) with the support of the Management Board composed of the various Work Package leaders (UHOH, TEAGASC, AGRIDEA, ZLTO and EUFRAS) and the project's financial advisor (CIRCA).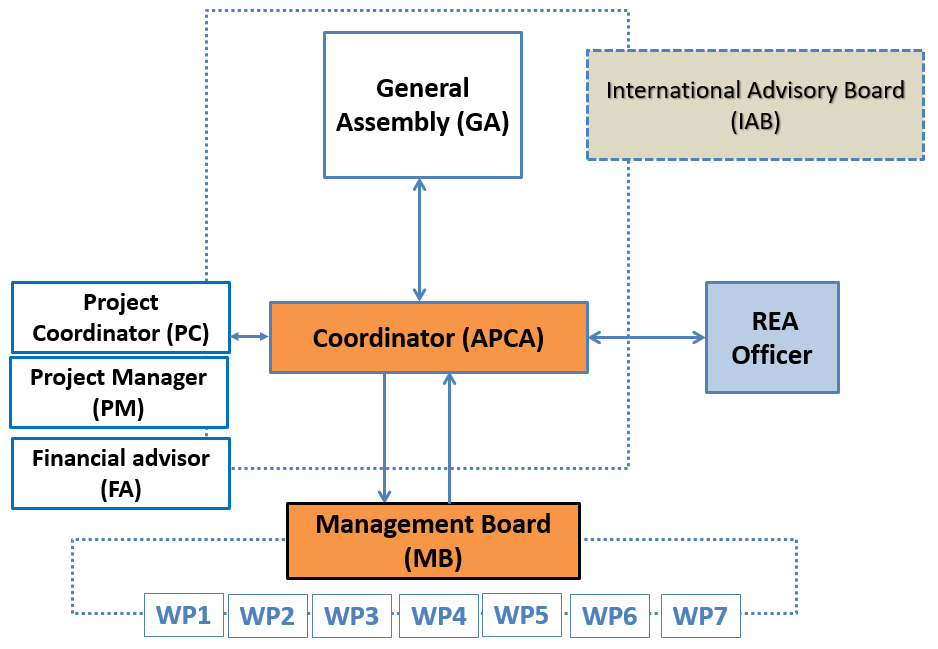 International Advisory board
An International Advisory Board (IAB) will be appointed and steered by the Management Board at the end of 2020. The IAB is a panel of six stakeholders concerned with innovation support. Their role is to support the consortium by providing advice and different perspectives, to "see the bigger picture" and to ensure that the views of various stakeholders are effectively taken into account. The IAB members shall be allowed to participate in General Assembly meetings upon invitation but will not have any voting rights.
| | |
| --- | --- |
| Meetings | 3 (starting in 2021) |
| When | During the GA meetings |
| Decisions | Coordinator shall write the minutes of the IAB meetings and prepare the implementation of the IAB's suggestions |
Chaired by the PC, the MB is composed of the following persons (work package leaders):
| Role | Name | Organisation |
| --- | --- | --- |
| Project Coordinator & Chair | Sylvain Sturel | APCA |
| Project Manager | Carmen Avellaner de Santos | APCA |
| PC Co-lead | Mikaël Naitlho | APCA |
| WP1 Leader(1) | Andrea Knierim | UHOH |
| WP1 Leader (2) | Maria Gerster-Bentaya | UHOH |
| WP2 Leader (1) | Tom Kelly | TEAGASC |
| WP2 Leader (2) | Jane Kavanagh | TEAGASC |
| WP3 Leader(1) | Niels Rump | AGRIDEA |
| WP3 Leader (2) | Gwenaelle Fontaine | AGRIDEA |
| WP4 Leader (1) | Peter Paree | ZLTO |
| WP4 Leader(2) | Eelke Wielinga | ZLTO |
| WP5 Leader | Liga Cimermane | EUFRAS |
| WP6 Leader | Carmen A./Sylvain S. | APCA |
| WP6 Support (financial issues) | Jim Codd | CIRCA |
| WP7 Leader | Carmen A./Sylvain S. | APCA |